Get to know our friendly dentist in Summerville, South Carolina, before you come in to Old Trolley Dental Associates for your appointment. Dr. Scott Kibler and Dr. Michael Skovira are dedicated to the health of their patients and understand that your comfort is an important part of that. Contact our team today at 843-376-6929 to schedule an appointment.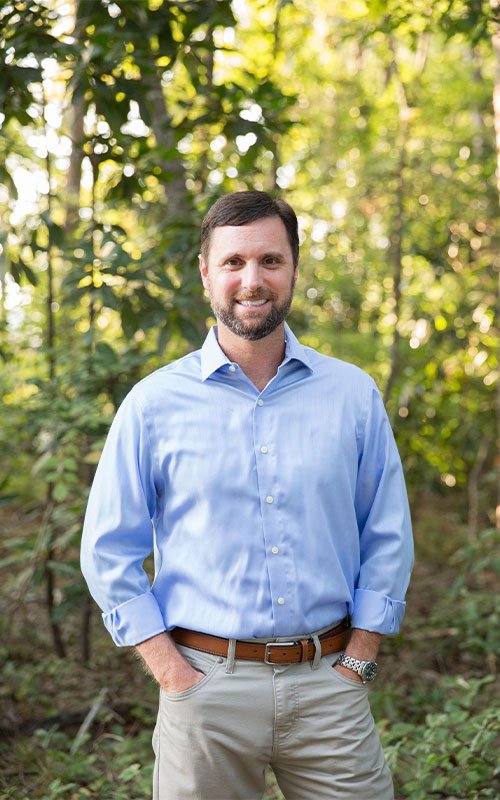 "Part of my profession is to teach my patients what they can do to keep their teeth for a lifetime. I want my patients to be at their happiest and healthiest! It is my goal to aid in the rehabilitation of teeth and educate patients to maintain their dental health for a lifetime."
Education and Experience
Dr. Scott Kibler is a South Carolina native. Born in Charleston, his family relocated to Spartanburg when he was five years old. He earned a Bachelor of Science degree in Biology from Rhodes College in Memphis, TN. Dr. Kibler earned a full scholarship with the Navy at the Medical University of South Carolina, where he graduated in 2002.
Dr. Kibler has been in private practice since 2006 in Summerville. His interests in dentistry are ever growing as he spends many hours a year in continuing education courses to offer his patients the most current concepts in the field. He is a member of the prestigious Seattle Study Club, as well as the American Dental Association and the Academy of General Dentistry. Dr. Kibler routinely mentors MUSC dental students in his private practice.
A History of Service
After completing an Advanced Education in General Dentistry residency at Naval Air Station Jacksonville, FL, Dr. Kibler transferred to Roosevelt Roads Naval Station, Puerto Rico. The Kiblers then returned to Naval Air Station Pensacola, where Dr. Kibler was the staff dentist for the legendary Blue Angels. His adventure with the Navy continued back to the Caribbean for a deployment to Guantanamo Bay, Cuba where he served as the dental officer for the Joint Medical Group. Dr. Kibler received the prestigious Joint Commendation Medal and Expeditionary War on Terrorism Medal for his performance in support of Operation Enduring Freedom. Dr. Kibler is a proud veteran of the US Navy.
In the Office
Seeing patients since 1998, Dr. Kibler looks forward to his work more than ever. Each day, he learns something new about people. He loves putting patients at ease and restoring their teeth to full form and function. Our staff loves working together and are always having fun! Each team member has a minimum of six years experience, and some have over 20 years of dental expertise! They are wholly dedicated to the practice and patients.
Family and Community
Scott and Katie, a native of Dallas, have been married since 2000 and welcomed their first daughter Lilly in November 2013 and an energetic standard poodle, Rosie in October 2014. They enjoy boating, fishing, skiing, and spending time entertaining family and friends.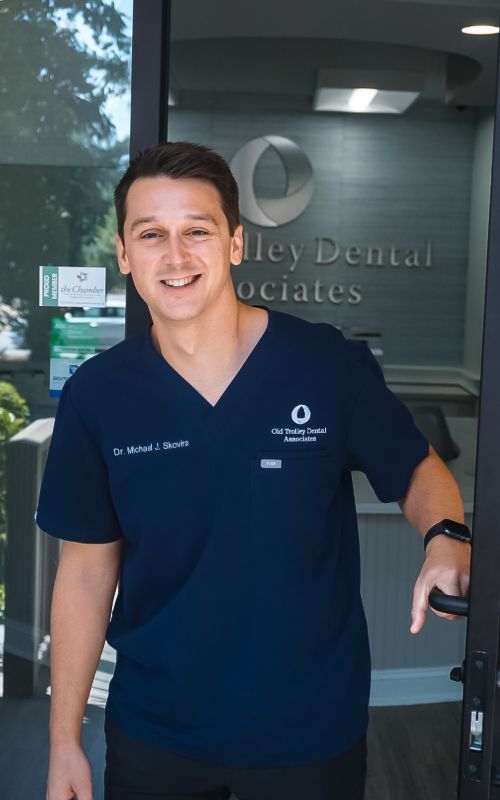 "It is a privilege sharing my passion for Dentistry with my patients. I've found that when it comes to wellness, prevention is key. When problems in the teeth and jaws do occur, it's important to practice preservative dentistry and intervene early. Maintaining the natural function of your teeth is my goal. I am excited to be part of a team that can offer restorative and replacement options that represent just how far Dentistry has come in the last several years."
Education and Experience
Dr. Skovira is a graduate of the University at Buffalo School of Dental Medicine. After graduation, he entered into a residency program in Advanced Education in General Dentistry at the Medical University of South Carolina. The focus of this advanced training being in comprehensive dental rehabilitation of patients with a wide range of conditions. His commitment to education above and beyond the requirements necessary has translated to better patient care. Dr. Skovira has trained extensively to provide dental services to those most vulnerable to tooth loss and those requiring complex restorative work. He has been seeing patients and practicing since 2011.
Family and Community
Dr. Skovira is married to Emily, a Speech-Language Pathologist at Flowertown Elementary School. They have two sons, Luke and Grady. Dr. Skovira and his wife relocated to the Lowcountry from Western New York. He is originally from Rochester, New York. He maintains involvement in a number of charitable health organizations and study clubs in the area.
New Patient Special
Comprehensive Exam, X-Rays and Cleaning!
*additional charges may apply in the presence of gum disease.
Contact Your Dentist in Summerville, South Carolina
Thank you for visiting Old Trolley Dental Associates online!
Hours
Monday, 8:00 a.m. – 5:00 p.m.
Tuesday, 7:30 a.m. – 5:00 p.m.
Wednesday, 7:30 a.m. – 5:30 p.m.
Thursday, 7:30 a.m. – 4:00 p.m.
Friday, 8:00 a.m. – 2:00 p.m.